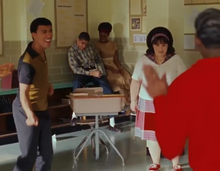 "Use them blues, brother. You've gotta use 'em to lose 'em."
-Duane to Seaweed while in detention (Hairspray the Musical)[1]
Duane is a student at Patterson Park High School in Hairspray's fictionalized version of Baltimore. He is a dancer of The Corny Collins Show's monthly Negro Day special.
Duane is a friend of Seaweed and is seen with him in detention. In the 2007 film, he is the second person in detention to speak to Tracy, and the first to be kind to her.[2] He is seen dancing at the sock hop, where Link sings "Ladies Choice.[3][4]
Duane sings and dances with Seaweed and several of the other Negro Day dancers during "Run and Tell That", later joining them at Motormouth Record Store for Maybelle's potluck.[5]
During "You Can't Stop the Beat," Duane is seen assisting Tracy by lowering her to the stage and then later raising Amber up off the ground so she can't intervene.[6] He is later seen dancing during the finale with Edna.[6]
The role of Duane was originated on Broadway by Eric B. Anthony.[7] Duane did not appear in the original 1988 film, Hairspray.[8] He is played by Anthony "Kanec" Carr in the 2007 version of Hairspray, and by Will B. Bell in the 2016 live special.[9][10]
References