Brenda is a student at Patterson Park High School and a council member and dancer on The Corny Collins Show.
She is played by actress Cassie Silva in the 2007 film and by Jacque LeWarne in the 2016 special, Hairspray Live![1][2]
On the stage, her role was originated by Jennifer Gambatese.[3]
Appearance
In most adaptations, Brenda has dark hair. In the original Broadway production, she wears her hair up in a small beehive. In Hairspray (2007), she wears her hair half up in a bouffant bun and half down in a flicked up bob. She is seen mostly in cooler colored swing dresses like green, purple and blue.
In Hairspray Live!, she is a blonde with a volumized bob and she wears a purple dress with thin straps and a hemline that hits just above her knees.  
Characteristics
Brenda is a noticeably good dancer. At the beginning of the movie, it is shown that she is beating Amber in the Miss Teenage Hairspray pageant.[4]
In the number "I Can Hear the Bells", she and fellow council member Tammy are seen performing poorly at dodgeball.[5]
In both the 2007 movie and in frequent stage productions, it is implied that Brenda is promiscuous. When her leave of absence is announced, Corny Collins notes that they are looking for a replacement that is "just as fun loving, but maybe not as free-wheeling."[6] It is heavily implied that Brenda left the show because she may be pregnant.
Story
Early in the show, it is shown that Brenda is beating Amber Von Tussle in the Miss Teenage Hairspray pageant. After a conversation with Velma, Brenda looks shocked and is seen staring down at her stomach and clutching it.[7] She is then seen arguing with Corny Collins.[8]   
After Link Larkin sings "It Takes Two," it is announced that she is is leaving the show for nine months.[6] Her absence opens up a spot on the show that Tracy auditions for and ends up filling.  
Even after her announced departure, Brenda continues rehearsing with the rest of the cast, implying that she will continue filling the position until a replacement is found.   
When Tracy comes to audition, Brenda is rehearsing with Velma Von Tussle and the other council members.   
Songs
Brenda participates in the following songs as either part of the chorus or as a dancer.
*Brenda only participates in Ladies' Choice in Hairspray (2007), where she is a dancer at the hop.
Interpretations
Brenda's presumed pregnancy has spawned several theories and has been reinterpreted several ways in stage productions. Some of the most common theories are below.
Corny Collins
One common interpretation is that Corny Collins is the father of Brenda's child. After her interaction with Velma where she is seen clutching her stomach, Brenda immediately approaches Corny Collins and the two are seen arguing in the background.[7][8]
Unknown Cast Member
Another common interpretation is that Brenda is pregnant, but the father is unknown, at least to the audience. Corny Collins also comments that she is "free-wheeling", meaning that she acts without inhibitions. [9]
Velma Von Tussel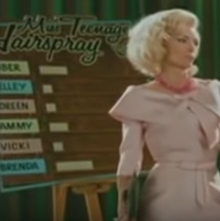 A less common interpretation, is that Brenda may not have been pregnant at all, but was tricked by Velma. Early in the show, it is shown that Brenda is beating Amber in the Miss Teenage Hairspray pageant.[4]
Velma may have known that Brenda was promiscuous with at least one person and intentionally planted the idea in Brenda's head that she looked pregnant. This would explain why Brenda looked shocked during her conversation with Velma - she hadn't known that she was pregnant.[7] At no point during the movie is Brenda showing any signs of pregnancy. In the 60's, home pregnancy test were not yet available.[10] Confirming a pregnancy would have required Brenda to make an appointment with a doctor and wait weeks for results, most likely alerting her parents to her activities.[11] As such, even if Brenda was not pregnant, there was a strong chance she would not be allowed to continue on the show, thus clearing the way for Amber to win the pageant.
Trivia
References
Community content is available under
CC-BY-SA
unless otherwise noted.