Brad is a student at Patterson Park High School and a council member on The Corny Collins Show.
Appearance
As with all council members, Brad's appearance varies with each production. In most major productions, he favors wearing suits and ties or a button up shirt, tie, and sweater vest with khakis.
Role
Brad first appears during "The Nicest Kids in Town." He is introduced after Amber and before Tammy. In Hairspray (2007), he can be seen running around on set and spraying his hair with hairspray before the show starts.
The stage age for this role is 16-19.
Songs
Brad participates in the following songs, either as part of the chorus or as a dancer. He has no solos.
* In Hairspray (2007), Brad is seen in the background during "I Can Hear the Bells," but he does not participate. He participates in both the musical and in Hairspray Live!
**"The Madison" and "Cooties" are performed in the musical only.
***"Ladies' Choice" is only performed in
Hairspray (2007)
and
Hairspray Live!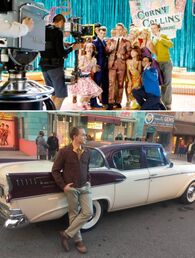 Trivia
Brad is part of the standard Corny Collins council, along with Tammy, Fender, Brenda, Sketch, Shelly, IQ, and Lou Ann.
Brad is one of five council members that have been in every major production of Hairspray, including the original 1988 film. The others are IQ, Shelly, Lou Ann, and Fender.
Community content is available under
CC-BY-SA
unless otherwise noted.